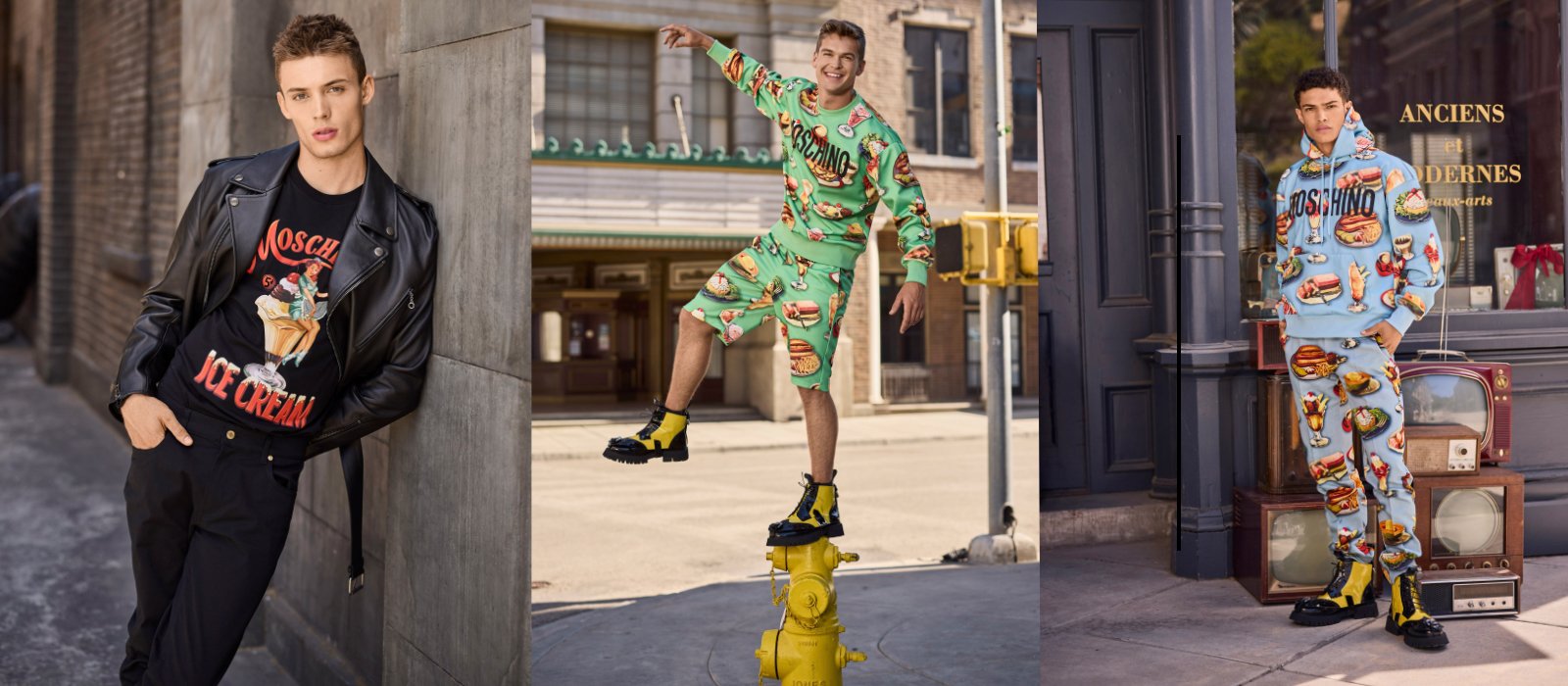 MOSCHINO Men
From engaging to outlandish through to delicate... fashion comes in all forms. Few design houses can boast of being as cheeky as much as Moschino. Founded by Franco Moschino in 1983, the label continues to distinguish itself with its bold and non-conformist style. Nicknamed the "bad boy of Italian fashion", the designer distorts the rules of couture with irony, drawing inspiration from surrealism and Pop art to produce his clothing. Spiritual slogans, XXL logos and humorous references quickly were part of his trademark. From jackets belted with the words 'Waist of money' to white shirts with sleeves tied at the back with the slogan 'For fashion victims only,' the designer knows exactly how to hit them where it hurts. He gradually revealed his opinion about the industry, underlining its absurd traits. An aesthetic and concept he cultivated until his passing in 1994.
Following his death, Rossella Jardini, his former assistant, took over at the design house until 2013, when she handed it over to Jeremy Scott. The rebellious designer from Missouri is no stranger to daring and quirky fashion, which he has been producing through his eponymous brand for over twenty years. Founded in 1997, he regularly stood out for his collections celebrating pop culture, notably including the Powerpuff Girls and SpongeBob in his shows. True to the founding designer's quirky humour and propensity for provocation, Jeremy Scott graduated from the prestigious Pratt Institute in New York. Also renowned for his unexpected and original collaborations with the Adidas brand, he was recognised for his exuberant style and disarming second degree humour. For Moschino, he regularly revisits his catchiest slogans and uses numerous cultural references to provide fashion that's playful, exciting, cheerful and offbeat all rolled into one.
Alien flight attendants, girly Barbies, comic book-style prints... every Moschino show has its share of surprises.
---
---
---
---
---