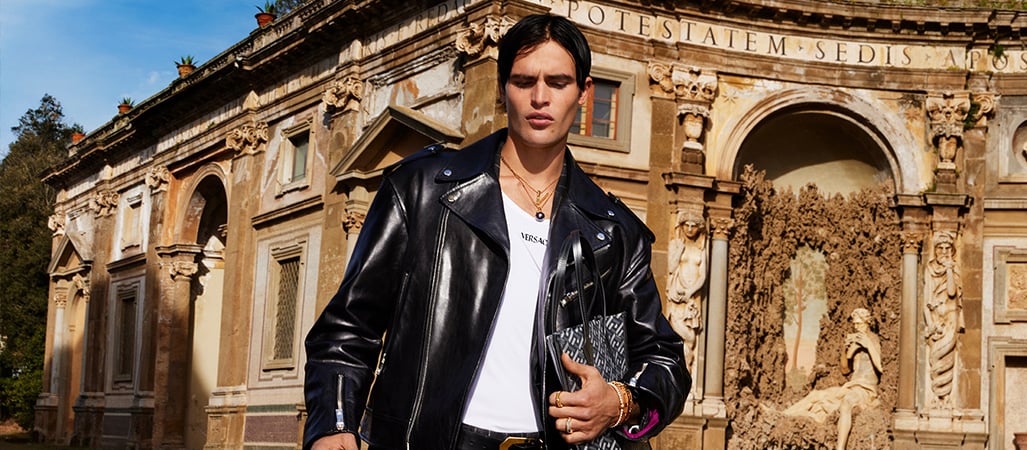 VERSACE Men
Few fashion houses go back to their roots as successfully as Versace. From the Tribute collection launched in spring 2018, which revives Gianni Versace's greatest designs, or the resurgence of the

Jungle Dress

worn by Jennifer Lopez in 2000, Donatella Versace never fails to generate a lot of buzz. Appointed the label's creative director following the death of her brother, founder Gianni Versace, on 15 July 1997, Donatella knows just how to honour his legacy while adding a touch of his style. While Gianni designed for women leading mundane lifestyles, his sister injects a more down-to-earth vibe to his garments, made for businesswomen who want to combine their professional and personal lives in style. The combination results in cool and stylish everyday pieces, always including the label's iconic logo: the head of Medusa surrounded by Greek tiles.
Founded in 1978 by Gianni Versace, the label's logo was inspired by some Greco-Roman ruins found in his hometown in Calabria. The self-taught designer was soon recognised for his sexy and colourful designs, irreverent yet display remarkable skill. The brand went global in the 1990s. Fascinated by the supermodels that he always put in the spotlight (who could forget the 1991 show with Christy Turlington, Naomi Campbell, Linda Evangelista and Cindy Crawford walking together to

Freedom

by George Michael?), Gianni Versace was equally idolised by his younger sister and muse. In 1993 when she accompanied him to the hundredth anniversary of Vogue magazine in New York, he put her in a dress from his

Miss S&M

collection. The daring leather dress with a bondage style cut and golden detailing propelled the duo to the front page of every fashion magazine. A year later, a fresh new actress, Liz Hurley, accompanied her fiancé to the London première of

Four Weddings and a Funeral

, wearing a black Versace dress with strategically placed oversized safety pins, certainly got people talking.
By the time Gianni Versace passed away three years later; he was a couture icon. Far from becoming a distant memory, his design house continued to flourish and prevailed ever more in pop culture. Only one dress was needed to make Versace an icon - 

that

dress. In 2000, Jennifer Lopez walked the Grammy Awards red carpet in a floaty plunging tropical-print dress. It caused such a frenzy that Google released Google Images, its image search engine, due to the high demand of photos. J-Lo wears the exact same dress during the label's Spring-Summer 2020 show, bringing exotic prints back in style. We have come full circle.
---
---
---
---
---