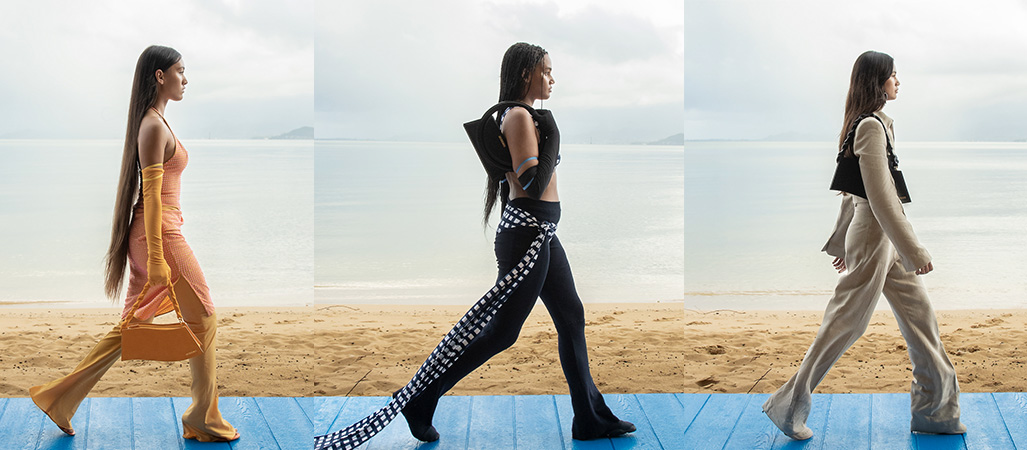 Handbags JACQUEMUS Women
"My name is Simon, and I like blue and white, stripes, fruit, Marseille, and the 80s." This, in a nutshell, is Simon Porte Jacquemus, the young designer making a splash around the world from the sunny fields of Southern France. Hailing from a family of farmers, he grew up in Mallemort, a small village between Marseille and Avignon. Entering adulthood, he decided to leave the apple trees and sunflowers to move to Paris and follow his ambition to work in the fashion industry. After studying at the ESMOD school, he launched his own brand of ready-to-wear, named in honor of his mother — his eternal muse. Jacquemus was thus born in 2009. If the first collections for Jacquemus Women's were somewhat minimalist due to tight resources at the young company, they still made a buzz thanks to their signature originality. The designer organized happenings throughout Paris and had friends like Jeanne Damas and Clara 3000 present the pieces. His audacity would pay off — so much so, in fact, that he would become the youngest designer to show at Paris Fashion Week at the tender age of 22. The Provençale label was a breath of fresh air in the fashion world, defined as it is by luxury and couture. Jacquemus' women's lines came bathed in the sun that had warmed their creator's youth and were characterized by geometric cuts punctuated with bright colors and a touch of humor. Simon Porte delves into the history of his natal region, from parasols to Roma culture and symbols, with a hint of the lavender perfume native to the region and in whose meadows the brand would celebrate its 10-year-anniversary. Jacquemus loves women and he makes sure they love themselves just as much — Emily Ratajkowski, Bruna Marquezine, Laetitia Casta, and Adèle Exarchopoulos are just a handful of the celebrities who love his work. Jacquemus Women's cult hits? The Chiquito bag, with its winking dimensions, the XXL sunhat, architectural heels, oversize blazers, and breezy dresses — symbols of a joyful and welcoming sensuality that brightens even the cloudiest of days.
---
---
---
---
---
Welcome to printemps.com, you are connecting from: italy and your language is: english.