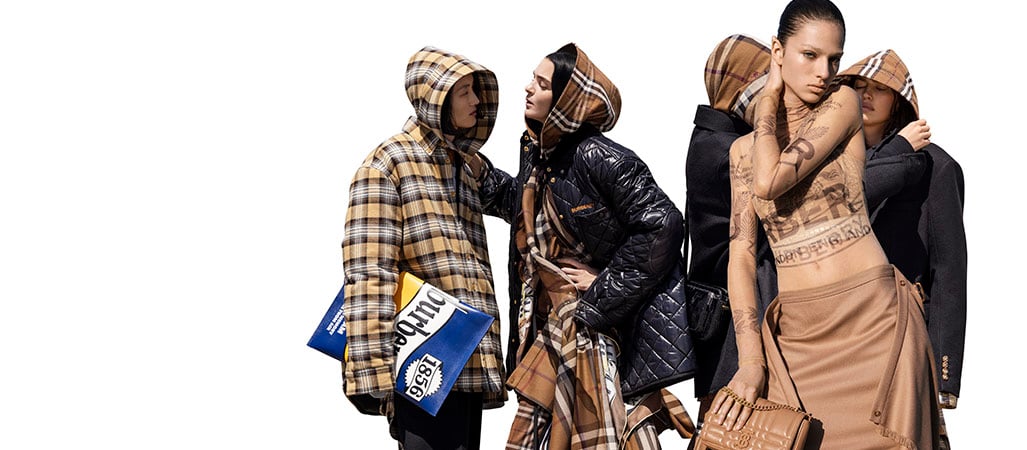 BURBERRY Women
Despite being one of the oldest design houses in the world, Burberry still hasn't revealed all its secrets. Under the direction of Riccardo Tisci, the British label has a fresh new face combining modernity and tradition more than ever before. After all, the brand rests on its rich history. Founded by a 21-year-old Thomas Burberry in 1856, the label rose to notoriety: in 1879 the founder invented the gabardine trench coat, patenting it in the process. The new waterproof and resistant fabric were an instant hit. Worn by many explorers throughout the years, Burberry was also the official supplier of trenches for British soldiers during both world wars.
The design house is praised for its products and known for its signature motifs. From the equestrian knight in the

Prorsum

logo to the iconic beige, red and black tartan check, the brand's aesthetic is immediately recognisable. Since being appointed in March 2018, chief creative officer Riccardo Tisci has understood this and continues to revisit designs that we suspected would be lost forever. Before his very first runway show in September 2018, he unveiled a new monogram print inspired by the fashion house's archives, designed by artist Peter Saville. In a matter of weeks, the orange, beige and white print featuring the letters 'TB' was everywhere. Tisci also gave the logo a makeover and introduced a wave of new products throughout the year rather than during a few key seasons. Finally, keen to address all audiences, Riccardo Tisci celebrates diversity and individuality through his creations and fashion shows for the house. Did you say "inclusive"?
---
---
---